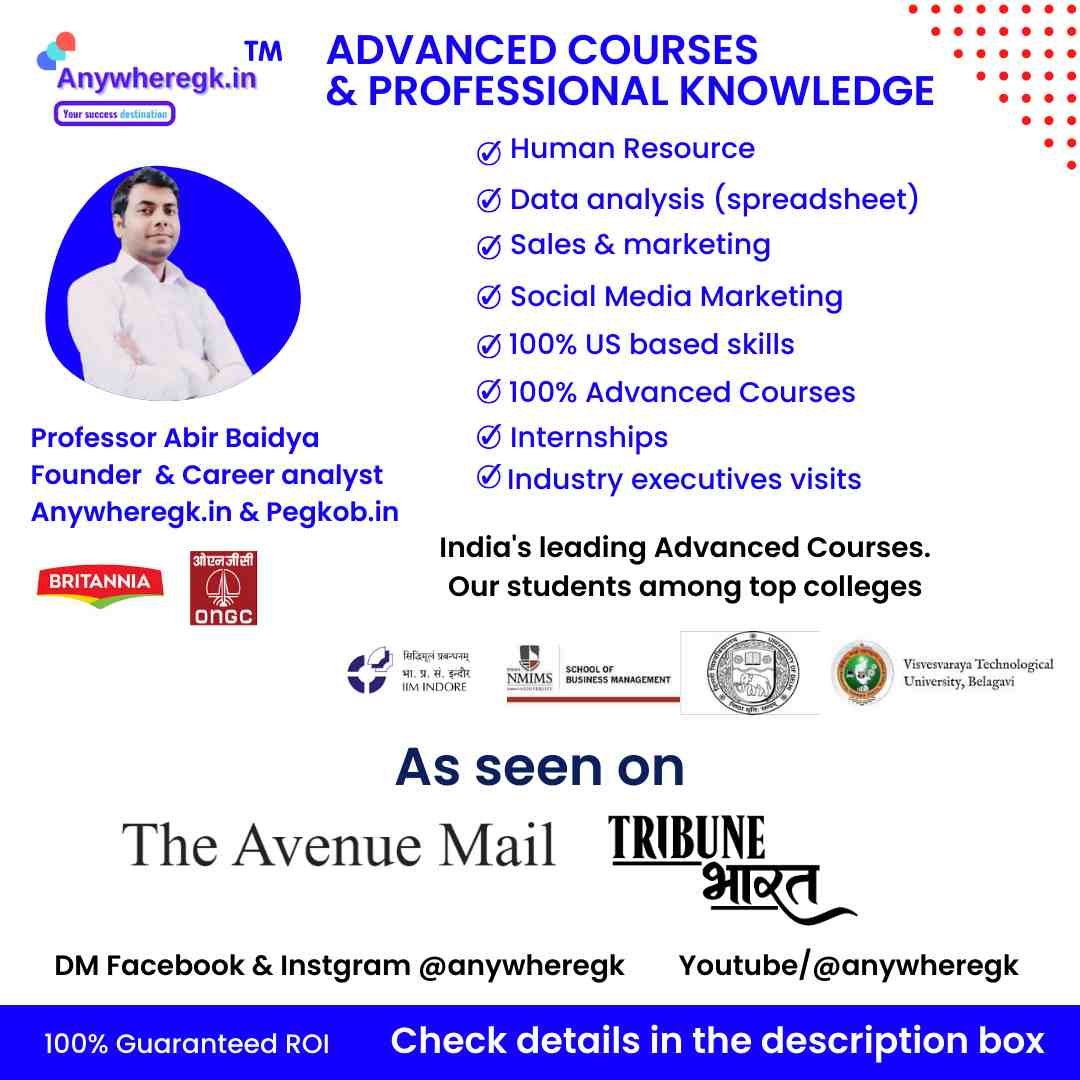 A professor creating value in education, skills, helping students and companies
A professor creating value in education, skills, helping students and companies
Professor Abir Baidya is the founder of leading education and business consultation sites anywheregk.in & pegkob.in. Till date he has given multiple case studies and helping videos worth million rupees on Youtube and Facebook. He has paid his own MBA and funded his business from his own without any other funds and without any salaries paid to him for 3 years. He believes India needs more businessmen than educated jobless with college education and cheap skills from youtube and other organizations.
Anywheregk.in is one of the new and leading websites for helping students prepare for the various exams and new age job courses for all students who need skills, and it has helped numerous students in through the exams with top scores. The site is designed and maintained by Mr. ABIR LAL BAIDYA who has an MBA from a top tier University and got selected for senior management positions in many top tier private companies and Fortune 500 PSUs in senior most management positions. He has vast experience in private jobs and government related exams and got selection in top tier PSUs and other banking exams.
The journey that started is now in the its way of becoming one of the leading sites for providing quality and best education materials at affordable price to the students. The primary thought behind developing such an educational web portal was to provide a study platform for all those students who are unable to afford the expenses of coaching classes and also those who want quality education at best price. Our aim is to reach aspirants in as many numbers as possible so that they can get a decent job in their field of choice.
It is very humble to mention that Anywheregk.in is getting tremendously positive response from the students and has now giving better quality with latest and best student friendly way of doing the courses and also getting huge support from students on the site within a small span of time.
Today students are coming from top colleges like IIMS, NMIMS, Delhi University, VTU, Jaypee university and many students who are buying their premium education and also eligible for paid internships, and best career guidance, live coaching, and saving lakhs of money on expensive colleges and government jobs exams in India.
Some of the major key points for why you should consider them are as follows:
Providing the students the best and most affordable courses.
Quality content from most reliable official sources, as mentioned in our site.
They do complete research on the content and the material before delivering it to you.
The best part is that you don't have to carry a whole load of books, the only thing you need is your mobile phone and a good internet connection.
Provide you a deep insight of the whole recruitment process along with the latest job notifications, and other related news to keep you updated.
Till date anywheregk.in have helped many students from colleges to get our Advanced Skills In HR, Marketing, Data Analysis, Social Media Marketing, Indian Payroll. All these courses have lakhs of jobs available. As per news reports, most of the graduates are not employable because of lack of advanced skills and career guidance. Best case studies have been posted on the Youtube channel of anywheregk to help students and businessmen get the right skills.
Pegkob.in
Sir also helped multiple businesses, like Keka, India. It's a $60 million company, and help it for social media marketing and graphics. It is done by Pegkob.in. Its is the digital business unit that helps companies and celebrities to lauch presence online and also do marketing.
Entrepreneurship and how its helpful for India
Anywheregk.in & Pegkob.in also do Brand Social responsibility – BSR. Everyone in the globe, we believe, should have equitable access to high-quality education.
Follow us & DM
Contact us –
pegkobindia@pegkobindia
anywheregkbusiness@gmail.com
Source: