For all courses FAQ you can visit here
Download coupons, Free Knowldge Library, & Free ATS CV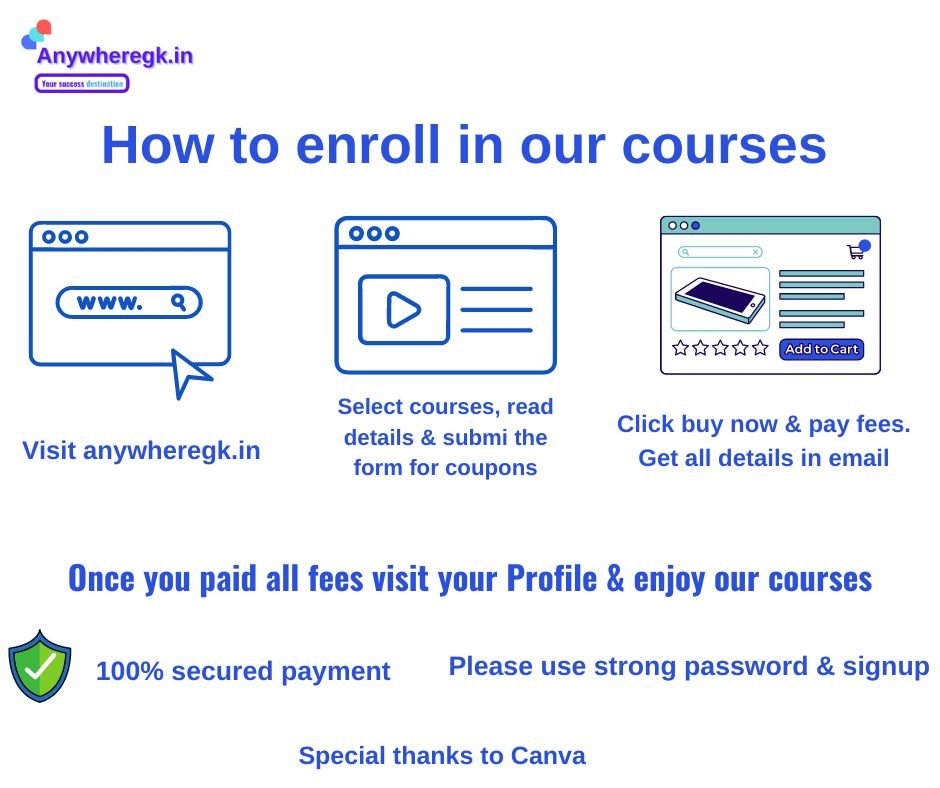 Free courses are available then why i must buy and what value you will provide?
There is no free course which will give you full access to all the various and latest updated lessons etc. Buying cheap and also high cost is also not good. It is absolutely for the structure. You can browse the Internet all day for information! But it may not be presented well, You may have to go to multiple sources (some of which may not be trustworthy), You constantly be switching tabs, and in the end You probably forget what You was actually looking for or get distracted by being led to some unrelated information. Online courses provide structure that keeps you on track, in the same place, with the right info. It takes time, effort, R&D and best education to create course packs which are affordable and best.
We also provide best courses and highly affordable price, career guidance, full access and unlimited validity *, various exams so you do not have to buy many books or courses, latest updated materials etc.
The best values which you will be getting by buying:
Convenient – For free content, you have to search for it, curate it, and create your own structure with it.
Cost-Effective – When paying, you get exactly the content you want, without the efforts for finding it.
Removes Any Guesswork – People look for educational content typically because they want to improve. But hey don't know how to make that transformation happen. Free content typically only hints at how they can do it.
Generally Low Value Of Free Content – Paying even to access your content is going to get much more value and use from your online course – as well as better results – as compared to getting it for free.
Ad-free – Free content usually comes at the cost of watching ads – especially among high-earners – who would be willing to invest in your paid content to avoid advertisements altogether.
Contribution – We contribute a money to people who support and run NGOs.
We are not providing any drugs etc substances. We are providing best knowledge for jobs and it takes huge experience.
Is this course really good for online? Do I need to attend any classes in person?
This course is completely online, so there's no need to show up to a classroom in person. You can access your lectures, readings and assignments anytime and anywhere via the web or your mobile device.
How long does it take to complete the Specialization?
There are lessons, assignments, tests in the Specialization. Each topic course and the capstone course will last approximately 3 months. You can continue the training till you get the certificate.
Will I earn university credit for completing the Specialization?
No. But you will learn much better and get meaningful training.
What will I be able to do upon completing the Specialization?
You will be better able to manage people. You will understand the legal environment for managing people and you will have a deeper understanding of what motivates employees. You will be able to effectively hire and integrate new employees, motivate them and manage their performance, and compensate and reward them. You will also be able to avoid key mistakes. If you are a manager, you will also be able to have a more productive relationship with your HR person; if you are starting a career in HR, you will be able to complete basic HR tasks.
How is this learning experience different from other similar learning experiences?
This course is also unique in allowing managers to get a better understanding of what HR professionals in their organizations do, and therefore hopefully have better relationships with them. Finally, our course is unique in bringing a realistic, multidisciplinary approach to managing people. A lot of approaches emphasize a single motivational approach, often rooted in psychology (e.g., find your inner passion). Our courses recognize that employees are diverse and have many motivations, and we infuse our courses with economic, psychological, and other perspectives, not just a singular perspective.
Do your provide any placement?
We provide best training and if you are eligible you can easily apply for various jobs. We do not provide any jobs at this price. We provide our students many things like Interview preparation, Making resumes, personality development, Job sites.
How to contact for any doubts?
Only live online classes you can contact.
I am doing HR studies can i get any help and classes ?
The course is exclusivly made with SHRM guidelines syllabus that you can get better value at this price. It will help you much better and provide you practical training which is not given in many MBA schools.
Do you provide refunds?
No.
What are the payment ways?
Debit card, credit card, UPI.
Can international students take this courses?
Yes.
Who can apply for the courses?
Anyone can apply for the HRM courses. You can be UG / PG and professional with minimum 1 year experience. People who are doing any other jobs and wants to be a HR officer can also enroll in the courses.
Are the courses recognized?
There are various people who do not need any degrees like stars, Politicians, TedTalks, Youtubers, HRM and Marketing executives with simple diploma and good courses and are earning and getting jobs. So this will really help you as you will be getting various best HR learning which are not given in MBA or other courses. And many graduates also donot get jobs with good universities.Tthe courses are mainly to get best training and help you to get relevant skills and at most affordable price.
What can i do after enrolling?
You will get emails. Please check emails once a week.
Why i must do this course and what value it will provide?
Human Resource Management particularly, will cover the following core topics.
Fundamentals of Human Resource Management
Fundamentals of Industrial Relations
Fundamentals of Labor Laws in India.
Human Resource Planning
Performance Management and Appraisal
Career guidance
Interview preparation in our premium courses.
Doubt classes for all.
Expert knowledge of all lessons with examples
Assignments.
Mock tests.
Basic excel training.
Past PSU in India papers.
And of updates which are even not available if you do lakhs or million dollar courses and training.
Our SHRM guided syllabus included.

Change management.

•

Compensation and benefits.

Employee and labor relations.

Globalization.

HR career planning.

HR's role in organizations.

Job analysis and job design.

Managing a diverse workforce.

Metrics and measurement of HR.

Organizational development.

Performance management.

Staffing (Recruitment and Selection
I want to do MBA can i study for these courses and do MBA?
You can be any UG and do these course and it will help you get expert knowledge of HR.
You are in distance education and you can do these course and get better knowledge of HRM.
You can apply for work and still take multiple time to read and study.
You can do MBA and also take these courses and get much better experience and job ready.
You can have some experience and you can later do part time MBA and save money so that you can do your regular work and also study.