Be our Individual partners for affiliate marketing and give best professional skills
Be our best agents & earn revenue. Highest amount any industry. Education Industry is Billion Dollar Industry providing business & new jobs.
Our best Self employment scheme
We a government certified MSME, UN MSME, IPR & ISO certified brand of Acetios Consulting. To know more visit about us.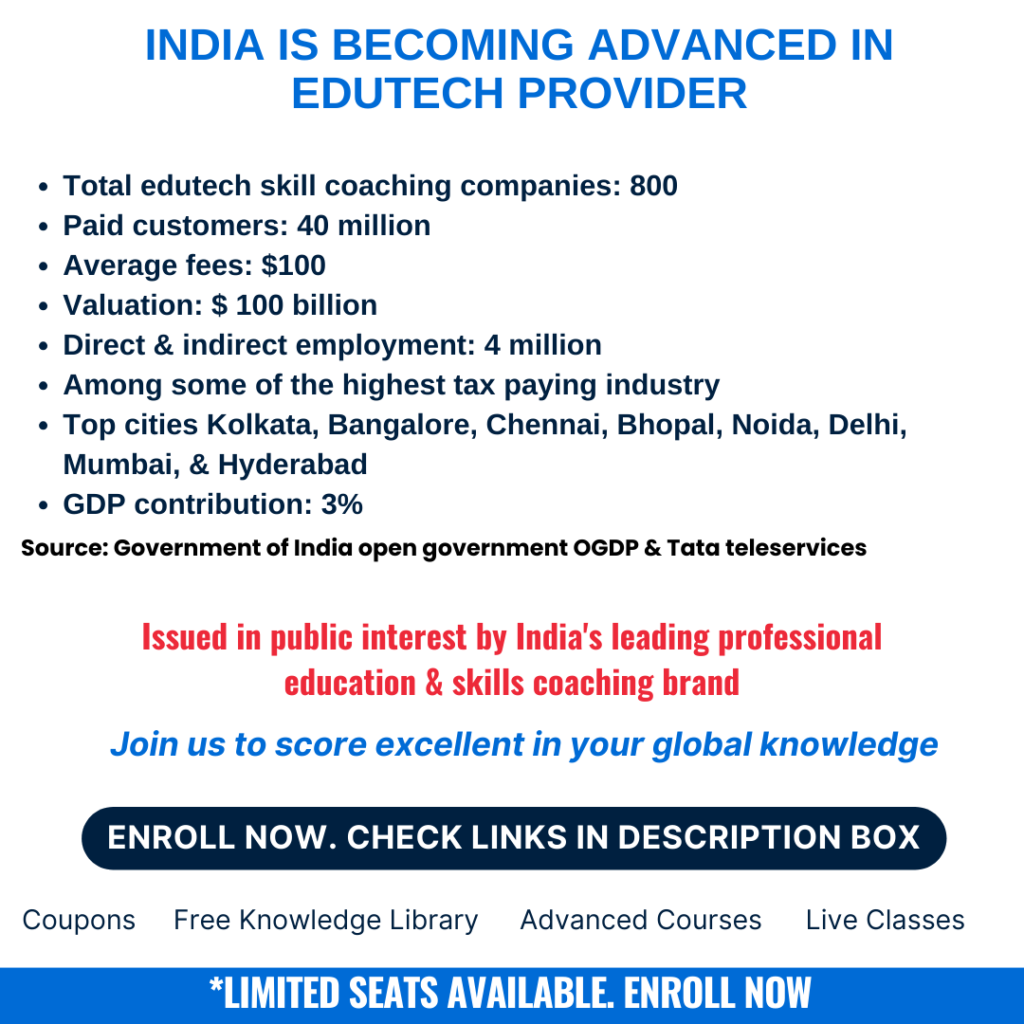 Be our education partners & digital consulting partners
All our students can be our Individual Partner and be self employed. You can encourage people to take our courses, join multiple groups in telegrams, LinkedIn, twitter, Facebook, whatsapp etc. Our effort is simple to provide self employment to millions.
Registration & login below
Free & also minimum investment.
No fixed targets. Earn at your own pace
Anyone can apply.
Minimum qualification: Minimum age 18+ / experienced candidates / job counselor / Employees /Small firms
Commission: Upto 30%.
TDS: Must have UPI & PAN card only India.
Payonner / Paypal for other countries
Roles and responsibilities:
Provide our courses / products to people.
Follow up and provide all information about our courses / products.
Reach school, colleges, groups and share you links.
Get leads, call them and do counseling.
Tell people about value of our courses & skills.
Tell students and parents about our advanced courses, career gift packs, career gift pack assurance and guaranteed internship.
Show thousands dollar free content available on our YouTube channel not given by colleges which takes more fees but most people are incapable to give value in jobs and most people are not good in business.
Many students bring free courses which has no value. No mentors, no free knowledge library , no free ATS cv , No FAQ, No internships, no reference checks, No projects , No exams, no career guidance , no thousands dollar free content available
Only these countries can join. Australia, Brazil, Canada, UK, Singapore, Malaysia, New Zealand, France, UAE, Saudi Arabia, Qatar, Philippines, US, Mexico, India & Vietnam
Please check your email dayily for all tips
Subscribe Youtube, Linkedin, Facebook & Instagram @anywheregk
Career gift pack live & other live coaching classes are not sold by individual partners
Commission :
Individual partners
Upto 30% or upto Rs 100K ($3K) month
Certificates for those paid our Advanced courses
Commission paid within 30th or next 10th every month of every month.
Processing fee: 10%
Giving high value sales can also add value for your any jobs
10% bonus included
KYC mandatory as per Indian Govt rule. KYC only after few sales.
Promoted as BPC for giving us best revenue and influencing people
Bonus: 10% for those giving higher sales & our paid members only
Get payout in 10 days for 100 best affiliates for 1 month only. Payment after getting the details & TDS
Business Partner Consultants:
Upto 30% or upto Rs 23 lakh or $30K per annum
Royalty fees: NIL first year
Processing fee: 10%
Marketing fees: By inhouse team. Fee to be paid by BPC
No limits per month
Individual Partners can also be BPC after best sales
BPC must take our Digital license rights to sell
Your roles is independent and you must organize small seminars offline & online
Bring colleges & companies to show them our values
Provide knowledge & case studies as shared on our channel
Do pre sales, post sales & support to people
Able to manage guidelines and promote our brands
Bring clients foe our digital business
BPC must pay the fees & give KYC
BPC must email us for details. Email – agkedupartners@gmail.com
Please quote BPC, your your details and experience, address & ph. no
Free live training visit here
Eligibility & how to make sales:
Only experienced sales / education consultants / affiliate marketing / Insurance agents with good audience /businessmen /housewife / HR employees/ college students with 1K followers in social media
Good knowledge of career
Good sales knowledge
Able to do influencing marketing
Sell in all groups in LinkedIn, Snapchat, telegram, WhatsApp etc. Share the posters and your links
You will also get benefits worth $6000
Banners
Our blogs
Videos
Free training
Facebook shorts & hashtags
Instagram shorts & hashtags
90% work has been done by Professor Abir Baidya. Now its your duty to get benefits and also provide value to us.
Also read How you can do affiliate marketing is helping self employment?
Get best media bundle.
All CTA
All India database for email marketing
Faster payout* for BPC
Lifetime link validity only for making quick sales
Only for fastest sales
Please check your emails for all details.
Start from own home with 300 sq ft space
Must have excellent knowledge in all skills
All must do daily webinars and sell the courses. You can select your own time.
A small session will be given to all partners
All must check their emails once weekly
Prizes for top Affiliate/ BPC giving crores sales
Cash rewards upto Rs 10 lakhs & awards*
Cash rewards for only top 3 people in past 6 months.
Only for Indians.
Must be 18+
TDS and processing fee
No refunds.
Some of our partners
ALPHA LEAP LIMITED

Coupert Limited
FAQ
How much sales can i make per day?
You can start with 10 sales and no limit on how much sales you are doing per day.
The more you sale the faster you will get our pay.If you have large subscribers you can sell to 1000 people in one day and get your pay within 30 days.
You can take webinars
Only people with more than good Facebook groups, Instagram , small or large YouTube channels, blogs, media etc must apply.
How can I earn money?
Check the details on our site or visit individual partners.
How to apply and the verification?
You must apply as per the details and also provide your PAN no. The ID is only by the Indians.
How to approach people?
Approach by multiple groups. Always use personal message to each person not a single message to all people.
Use DM to your friends and tell them about the advantages of our professional skills.
How much can I earn?
You can earn as per your own. There is no limit for BPC. Suppose you make total revenue Rs 30 lakhs in a month then please apply for the BPC including all the information as mentioned. You will get your share as per the BPC within 30 days after providing all the information. We only allow 100 BPC and all must be Indians as per the details.
How to approach for any help?
You can send us email collaborations@anywheregk.in including your Name, Email and all details.
How this commission will give me money?
This commission is a the one of the highest and as small businesses we cannot afford more. All big businesses also provide lower commission as it's an expensive way to do marketing.
Taxes: A business has to pay multiple taxes not only income tax
Legal costs: A business has to pay the legal costs
Bookkeeping: A business has to pay for all the financial results.
Staff: A business has to pay the staff and internship
Technology: A business has to pay the technology and advertising costs
Utility costs and bank loans